Following their beautiful wedding, I met Clementine and Cóme on a warm evening to capture their love story in Paris. We had a wonderful time walking through streets, roaming along the river and stopping in cute cafes.  Our last stop of the day was extra special for Clementine and Cóme as this is where their love story began years ago. They first met in the top floored apartment, where Clementine spent her first years in Paris, and they've been inseparable ever since.
We were so lucky to have my amazing sister, Portia, join us all the way from Australia. She is a very talented hair and makeup artist and created the perfect look for Clementine. Thank you Portia!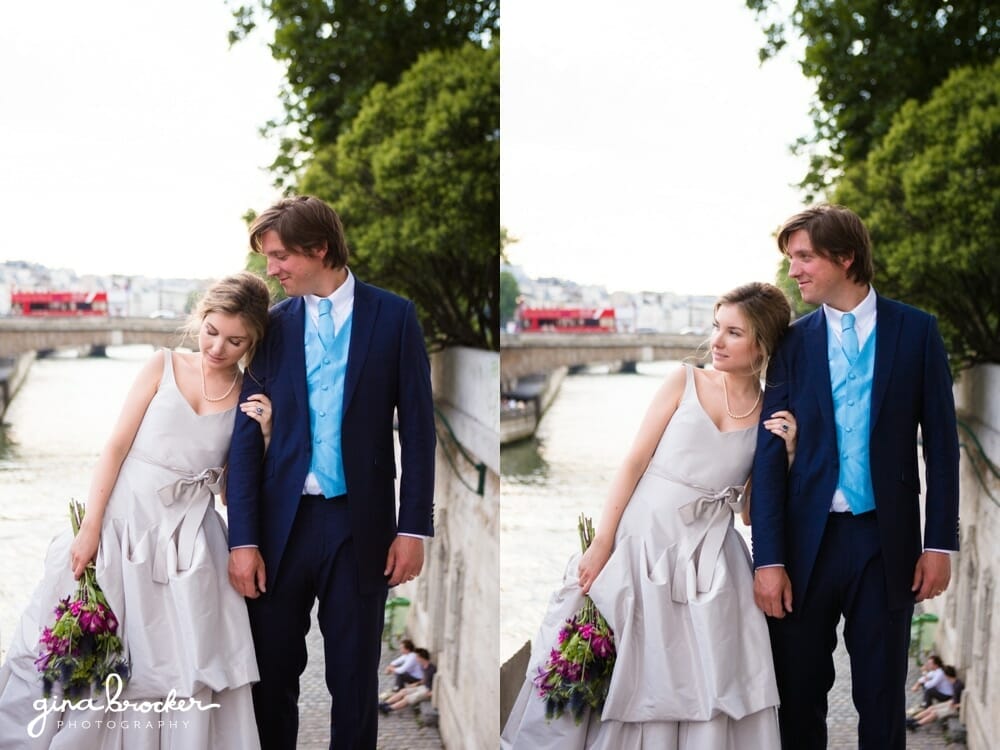 "Côme and I married at the basilique Sainte Clotilde and the Ecole Militaire in Paris. The party included biodynamic wine we brought in from Puglia, handmade cocktails by our friends at Candelaria, music by Diis Paradiis and homemade derby pie. Following our wedding, my friend Nancy LaTart, wedding planner at Fête in France, suggested that we met with photographer Gina Brocker, for a post-wedding Love Story session.
We had so much fun shooting back and forth across the Seine with Gina. She adapted our route as we waited out the storm, and we roamed around our old neighborhood south of the marais, through cobbled streets of Saint Germain and down to the river. There was beautiful light at the end of the day and Gina's patience, enthusiasm, energy and ideas were great to work with. We kicked off with some of the wedding champagne and had a ball after that.
Gina then led us back to the Tour Saint Jacques – outside the top floor balconied apartment where we first met and I spent my first years in Paris – these are our favorite pictures!
Portia had heaps of ideas and was very open to new directions in hair and makeup – the Love Story Session offered the chance for a complete restyling after the wedding. My dress was made with paper taffeta by my friend Diane Rakowski, former head couturier at Vivienne Westwood. The fine tulle veil was a beautiful gift from Diane, my heels are Givenchy. The pearls belonged to my Brazilian great-grandmother Gilda, my 1950s engagement ring a gift from my mother-in-law.  Côme's suit was made by a tailor at Madeleine, shoes were Paul Smith."
– Clementine & Cóme
Hair & Makeup: http://portiapeacey.com/
Shoes: http://www.givenchy.com/en/