Kate & Kevin are two of the kindest and sweetest people I have come across and I am so delighted to have captured their beautiful wedding story for them! Everything about their Nantucket Wedding at the Westmoor Club was incredible. The handmade details, personal vows, golden retrievers, brilliant dancing and the most warm hearted and fun loving family and friends you could hope for.
Thank you so much for sharing your beautiful day with me Kate & Kevin, it was truly a pleasure and I wish you two a lifetime of love and happiness!
I have also included a few words about this wonderful day from Kate below…enjoy!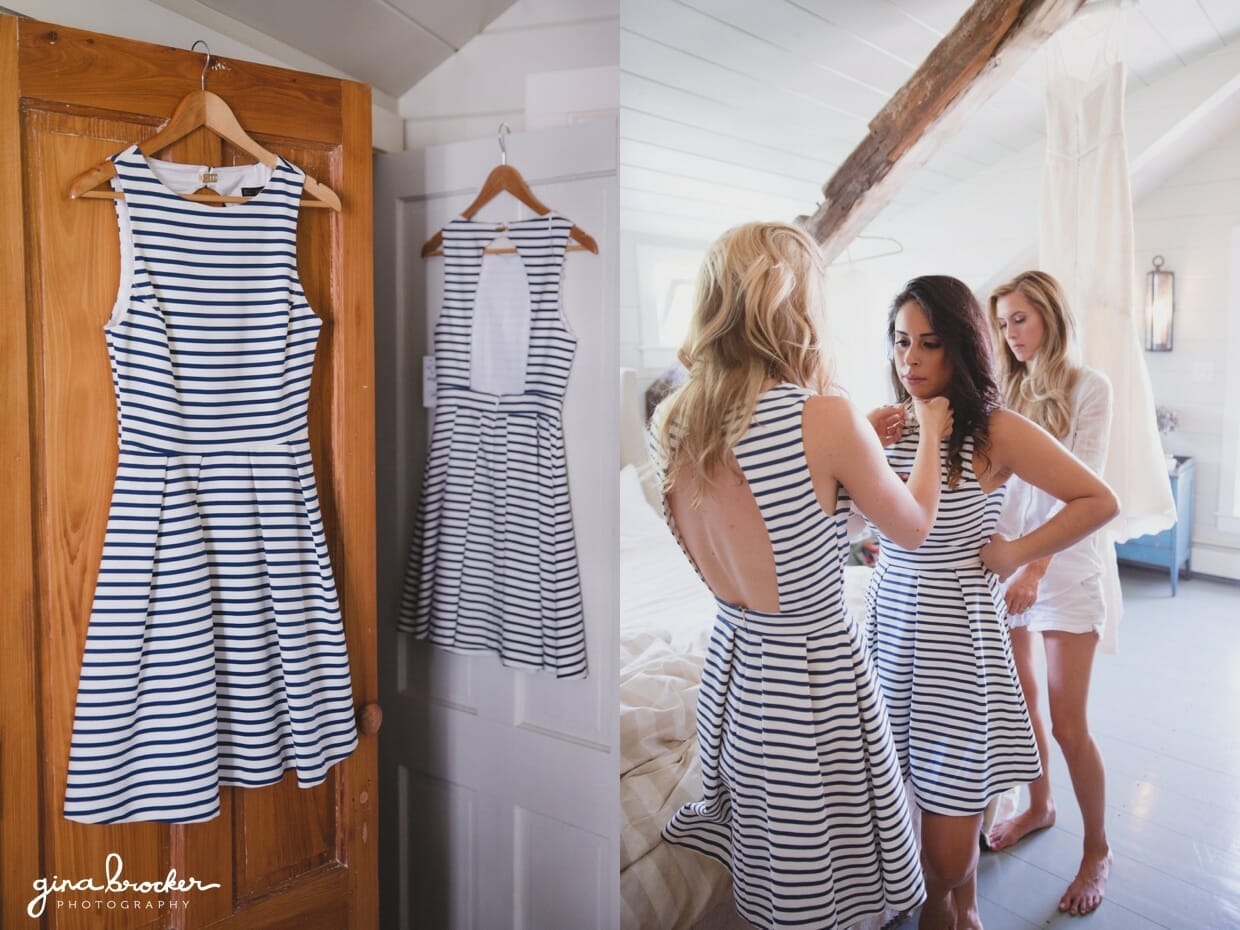 "We chose Nantucket because it is where we really fell in love. We first said "I love you" there and when the discussion of wedding locations came up, we both knew it was where it had to be. We loved the idea of sharing what is such special place to us, with our loved ones. We knew we wanted a venue that would feel cozy and intimate that was brimming with character and charm. As soon as we visited the Westmoor Club, we knew we found "the one." We already knew we wanted to have an outdoor ceremony on site, and the club was perfectly situated to accommodate this.  The Club House is a restored mansion – originally Alice Vanderbilt's built in 1917- that suited our taste to a T and the grounds of the club really lent itself to the garden feel with it's boxwood hedges and garden terrace.
Kevin and I first met when we were 8 and 12 at my parents camp in northern Ontario, Canada. It wasn't until almost 20 years later when I was visiting NYC that we became reacquainted. Our parents are very good friends, and while they say it wasn't a set up, we know better. We got engaged July 14th 2012 at dusk in Southampton. We were in the Hamptons for a relaxing weekend with our dog, and Kevin convinced me there was a pop up lobster roll shop on the beach (he knows I will do anything for a lobster roll) We got to the beach, and as soon as I realized there was no restaurant, I looked over and he was down on one knee. We have a picture of us that was taken at the very same beach from the summer before, and he wanted to recreate the scene. Now we go back each year and take a picture at dusk – a very sweet and special tradition. 
The vision for our wedding was the marriage of seaside prep meets English cottage garden. Since we chose Nantucket, this came naturally. I really wanted to let the island charm shine through without being overtly "nautical" I chose a color palate of navy and peach with accents of antique silver and gold. We wanted the wedding to be relaxed and fun with the focus being time spent with our loved ones on a paradise island.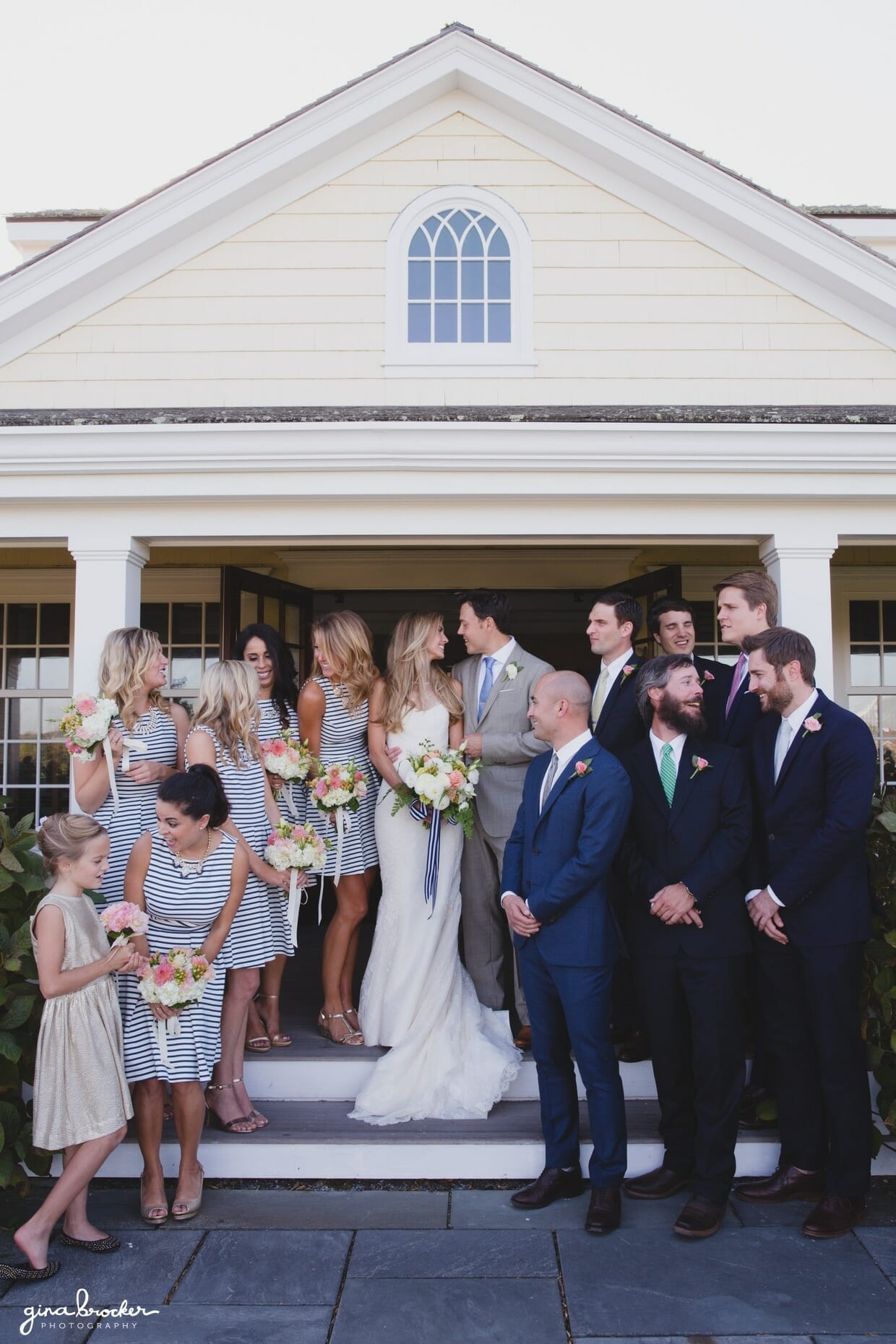 Our ceremony was held outside on a perfectly sunny Indian Summer evening. Our guests were greeted with fresh lemonade and potted mint for them to snip while being escorted to their seats to the music of our cellist and violinist. The ceremony was officiated by a dear friend of ours with a backdrop of beautiful overflowing urns of garden roses, hydrangea, curly oak branches and eucalyptus. We wrote and spoke our own vows which was so special – the perfect mix of humor and true love and commitment. The real star of the show was our golden retriever who desperately wanted to be up at the altar with us, and she let us know by chiming in whenever we spoke.
The reception followed our terrace/patio cocktail hour which featured signature cocktails, Westmoor Seafood Chowder, a raw bar set up in a wooden boat and various passed appetizers. Guests fathered around outdoor fire pits, adirondack chairs and a beautiful sunset view overlooking the island.
The reception dining room featured a mix of long and round tables lit by candles, shimmering gold chargers and overflowing with romantic centerpieces. Guests found their seats by escort cards that were hand written and embossed with stamps to coordinate to the handmade table "pictures" made by the bride. The cards sat atop moss laden silver trays. Acclaimed Executive Chef Bruce Sacino built our menu to suit our tastes using locally sourced seafood and produce – to this day friends and family gush over how delicious it was! The main course was served family style after a plated salad and first course. In addition, guests enjoyed the homemade wedding cake and homemade doughnuts. I knew I wanted a verbs simple cake with fresh flowers. And I wanted it to taste delicious! My mom makes the most delicious lemon raspberry cake so I had the wild idea of asking her to bake it. (She is not a professional baker) She was up to the task, and made the most delicious masterpiece in the kitchen of the home we had rented for the week.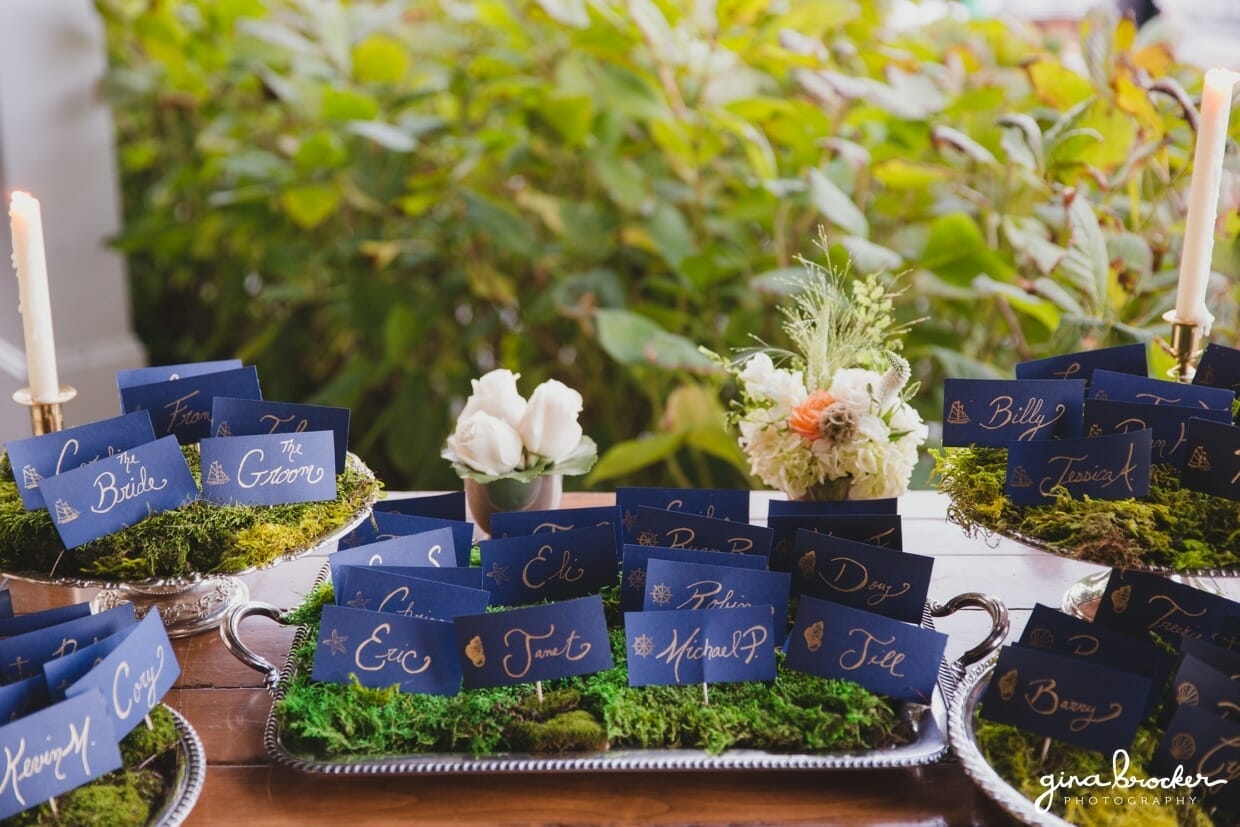 Along with the traditional first dance, father daughter and mother son dance, I danced a traditional country western two step with my step-father. Our guests danced the night away to the sounds of Sinatra, country, oldies and pop.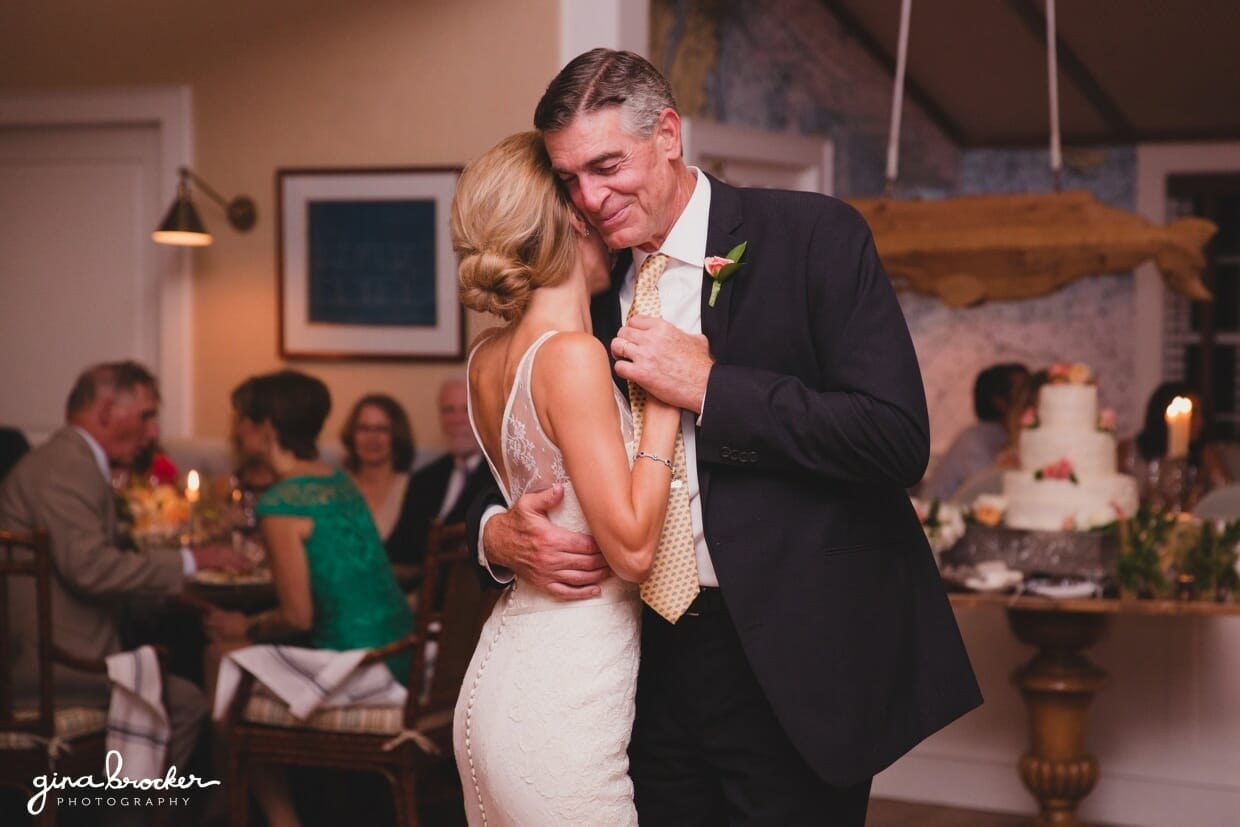 By far the best decision we made was in choosing our photographer. Gina immediately felt like a part of our family and was such a tremendous help from start to finish. With so many moving parts to deal with in planning a wedding, it was such a delight to have zero worries about photography. We knew that Gina would work her magic and did so in such a natural and unobtrusive way. Our wedding day was over in a flash, but having such wonderful pictures to relive the day is a true gift."
– Kate
I would also like to extend a heartfelt thanks to Lisa Gilbert and all the amazing vendors who made Kate & Kevin's wedding so amazing!
Venue: Westmoor Club
Wedding Dress: Amy Kuschel
Wedding Shoes: Chanel
Jewelery: Shenoa Co.
Grooms Suit: John Varvatos
Grooms Tie: Hermes
Bridesmaid's Dresses: Zara
Junior Bridesmaid's Dress: Petite Bebe
Mother of the Bride Dress: Tadashi Shoji
Hair & Makeup: Zachary Cook
Flowers: Soiree Floral
Invitation Suite: Crane & Co.
Band: The Classic Yellow