This week, I am very happy to share some incredibly helpful wedding tips from Christian of Brighter Lights Media! His 'Bride's Guide to Modern Wedding Cinematography' will be sure to help you find the perfect cinematographer for your special day and answer any questions you may have. Enjoy!
" If you've spent any fair amount of time researching vendors for your upcoming wedding event, by now you're sure to have noticed the rise in popularity of hiring a wedding cinematographer for your wedding. Certainly the pool of photographers has gotten quite large, with a growing number of filmmakers not far behind. Hopefully the following pointers will get you on the fast track to finding the perfect studio for your needs.
What kind of a film are you looking for?
Wedding films come in all sorts of flavors, the two primary styles dominating the market are the short-form and long-form wedding (documentary style) film. Short-form wedding films generally range anywhere from 5 to 25 minutes, depending on who you talk to. A long-form wedding is usually anything longer than 30 minutes.
The main differentiating factor between the two aside from the runtime, is the editing style.
Short-form wedding films are the more popular choice these days, due to the higher production quality and storytelling involved. These kinds of videos may or may not be sequenced in chronological order, but instead are edited in such a way that you really obtain a strong sense of who the couple is, primarily from the underlying audio bites heard throughout.
Toasts, blessings, a card reading, and especially vows really create a strong backbone for the story behind a short-form wedding film.
How much should you budget?
Let's address the elephant in the room and talk about budgeting.
Around the New England area you can find wedding videographers ranging anywhere from as low as $995, and well into $10,000 and up. Like most things in life, and this is especially true when it comes to hiring a photographer and a videographer, you get what you pay for.
If you're looking for a good, high-quality film that will last you years and years, realistically you should budget $6,000 or more to invest. This might sound like a lot, but look at it from this perspective…
… your photos and film are the only thing from your wedding that increase in value as time goes on.
For this very reason by definition, everything else you spend money on is an expense of some kind. Photo and video should be looked at as an investment. The cake, flowers, music, dinner, make-up… it's all gone very shortly after you've said "I do."
$6,000 is no joke, that's a lot of money to spend. This is why I encourage newly engaged couples to figure out early on what's high on your list of "must haves." By prioritizing certain vendor categories, you'll have a much easier time getting through the planning process knowing where you have the flexibility to splurge, and where you need to be diligent.
Research
Wedding videography can be pretty technical, hopefully whoever it is you're looking at booking is able to clearly explain a couple key things about their business that should be of high value to you.
Coverage. This one's basic, how much time do you need them there? Everyone's style is different so I can't speak for everyone, but usually 8 hours should be enough time to capture everything you'll need. One thing to keep in mind with more modern wedding films is that you don't need as much dancing as you think. Two cameras rolling simultaneously for 20-25 minutes will be plenty. Plus, the later we stay the sloppier that dance floor becomes.
Low-key. I won't lie, some videographers can really get in the way. This is an important topic to ask about because at the end of the day, it is a wedding. I think most brides will agree they're not hiring us to produce an actual movie, and the sanctity of marriage should still be respected. My advice is to ask to see recent reviews from past clients, or even just type the "studio name + reviews" on Google.
Personality. This is a big one… your videographer is going to spend a majority of the day by your side, you should make sure that he or she is someone that you get along great with, and that you trust. I encourage you to meet them in person or the very least organize a Skype session.
Audio. I saved the most important topic for last. Audio is so huge when it comes to your wedding film, that above all else, this should be the first thing you pay attention to the first time you click "play" on a prospect's website. Sound is the primary differentiator between us and your photographer. Photos can't capture sound, so what good is spending money on a videographer if they're not going to be able to capture your vows & toasts properly? Any professional knows to have AT LEAST one backup audio source running during key moments. We usually have three.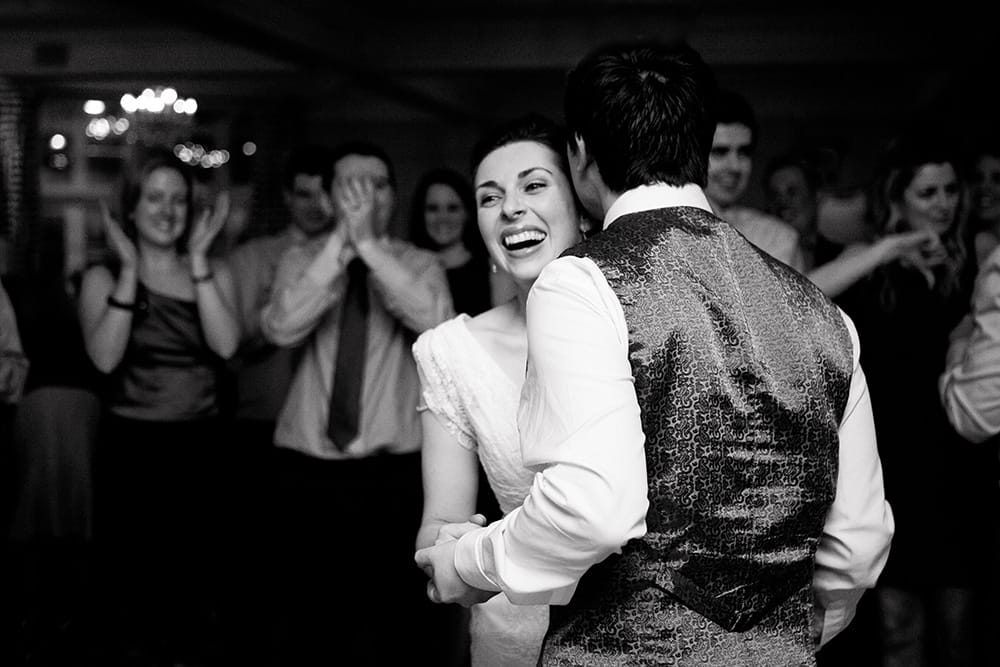 Where to start looking?
If you're on the hunt for a really great wedding cinematographer, then one of your best bets is to simply ask your photographer for recommendations! Chances are they have a handful of favorite people to work with that do a great job and that they'd feel comfortable referring you to.
Most successful wedding film studios have built up a strong word-of-mouth referral network, and we don't rely on advertising spending, so you won't necessarily find us on WeddingWire or The Knot's paid listing service. Reputation is everything, and so the best way to start looking is by asking around, asking other industry professionals, because they're the ones who are really plugged into the local market that can help you the most.
You may also consider polling your friends on Facebook. It's very easy for people to comment or share links to either their personal film, or the cinematographer's Facebook page. Plus, you know you're seeing their most current work."